Róisín Quinn
Welcome to the Queen's college!
My name's Róisín and I'll be your JCR President for your first year at Queen's. The JCR is a committee at every Oxford college that runs in a similar way to a Student Union but on a collegiate rather than University wide scale.
Before I begin to talk about what to expect for your time at Queen's, I thought it important to say congratulations! Your hard work preparing for interviews and exams has paid off and now very soon you'll be starting a new chapter at Oxford.
I know for myself the idea of starting University (and on top of that, that University being Oxford) seemed slightly daunting and that's why we wanted to make you this pack, not only to answer the important questions like packing, accommodation etc but also hopefully to give you a taste of life at Queen's.
I'd say one of the best aspects of Oxford is the collegiate system, as it really means you feel like you're supported in a way that's hard to offer on a larger scale. On top of that, Queen's is notoriously one of the friendliest colleges at Oxford and from personal experience I can say that definitely holds true. Even on a bad day you always know that you can go into the dining hall for lunch or pop by JCR Tea (which we'll talk more about later) and see a friendly face to brighten your day. Not only that, but the vast amount of sports clubs, societies and social events organised by members of the college means whether you're interested in badminton or live jazz sessions there's something for everyone to feel a part of.
I can imagine too there's one thing that's really pressing on your mind at the moment: Freshers week. I hope that your overall feeling at the end of Fresher's week is that you enjoyed yourself but it's completely normal to feel a bit tired out from it too. Often a lot of pressure is put on Freshers week since it's a week packed with both important information from the University and College as well as social events but I'd say in my opinion the most important thing in Freshers week is to be kind to yourself. You're taking a big step in your life, meeting a lot of new people and taking in a lot of information but remember to take some time for yourself (I can promise that missing a couple social events won't define who you will and won't be friends with). It's also ok to admit if you're feeling overwhelmed, and if you are we have a whole host of people to support you and make you feel at ease, from myself to our welfare reps to our Chaplain, our main priority is to make your transition to university and as smooth as possible and to make sure you feel supported.
Looking beyond Fresher's week I thought I'd also mention something Oxford is fairly notorious for: the workload. First, it's important to remember that you're here for a reason. Your academic and moral tutors will have seen countless students pass through Oxford and I'm certain that the reason they asked you to come study here is because they have every faith that you'll do well here and ultimately, they're on your side, they want you to succeed. They also appreciate that at times the workload can be a bit intense so if ever you feel like work begins to feel a bit too much I can promise you that if you reach out they'll be more than willing to help you. Every student is assigned a tutor called a moral tutor, and that's someone who if ever you have any issues with your academic work they can be your first port of call, and it's their job to not only be your tutor but offer you moral support where you need it. Saying all this you've also come to Oxford because you clearly love your degree, and so I also say really remember to enjoy the work as there's very few places other than Oxford that offer such an amazing, in-depth learning experience.
Lastly, I'd like to say I'm really looking forward to meeting you all! I'll be around at most events during Freshers week to make sure everything is running smoothly and just so you have a friendly face to chat to. If you have any queries, problems or just fancy a chat I'll pop my email and Facebook below (as well as the link to the Queen's Facebook Group which I'd advise you join asap).
Take care,
Róisín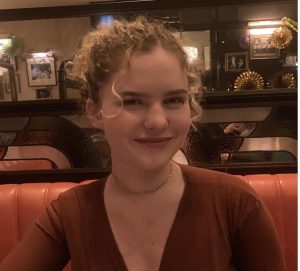 Email me: roisin.quinn@queens.ox.ac.uk
Facebook: Róisín Quinn https://www.facebook.com/roisin.quinn.142/
Link to College Facebook page: